It was spring break in 1989, and University of Austin student Mark Kilroy was vacationing in Matamoros, Mexico, with some friends. Arriving with fellow Americans all excited for spring break, Mark began to enjoy the buzzing atmosphere and Mexico's lax drinking laws, and partied well into the night. At some point, Mark and his friend decided to walk to a popular restaurant-store to pick up some snacks. While his friend went down an alleyway to urinate, Mark waited for him. Upon returning, he had vanished.
They searched for hours, before retiring to their beds. Most of the group weren't worried, as they thought Mark may have hooked up with someone and left for the night. Unfortunately, this couldn't be further from the truth: Mark had been kidnapped by cult members Serafín Hernández García and Malio Fabio Ponce Torres, and by the time his friends phoned the police in the morning, he had already been handed his death sentence by The Narcosatanists cult.
About twelve hours after Kilroy was kidnapped, the cult wrapped his face and mouth with duct tape and marched him to a small cabin with his hands still bound. There, they tortured an sodomised him for several hours. After his horrific ordeal, cult leader Adolfo Constanzo killed him with a machete blow to the back of his head. The sacrifice was done and Mark's pain was finally over. The twisted cult didn't stop there, as they soon removed Mark's brain to boil and eat.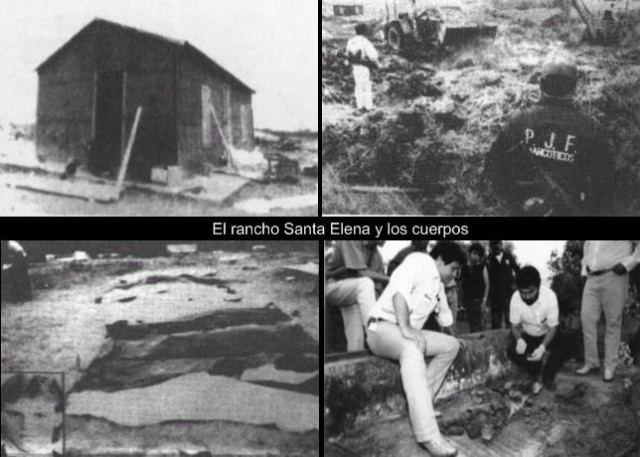 After a long investigation to find the missing student, Mexican police officers finally had a breakthrough when a routine checkpoint near Santa Elena saw a vehicle speed through the checkpoint without stopping. The man driving was Serafín, one of the men who had kidnapped Mark. Instead of alerting the suspect with loud sirens and a high-speed chase, the police acted tactically and followed the truck using an unmarked vehicle. He led them right to the ranch. The next day, officers organised a raid on the ranch. Firstly, they interrogated the caretaker who identified Mark through a photograph before leading officers to the cabin where he was slaughtered. 
It didn't take long for cult members to confess to the murders, stating that their leader had ordered a human sacrifice of a gringo (white American). They admitted that Mark Kilroy had simply been in the wrong place at the wrong time, and they led investigators to the spot where he was buried. After Mark's body was exhumed, a further 14 mutilated bodies were discovered, all males who had been killed over a period of nine months. Police also seized 110 kg (243 lb) of marijuana, 108 grams of cocaine, 12 firearms including three sub machine guns, and 11 vehicles, some equipped with telephones. It seemed that the police had stopped an extremely dangerous cult.
Perhaps the most frightening aspect of this case, is that many of the cult members are still at large. Although their leader, Adolfo Constanzo, was reportedly killed by a machine gun, the whereabouts of these depraved individuals are still unknown.